SCREENINGS
TEACH in Boston at the Curley School
Please join us for a special screening of
TEACH, Teachers are Talking, Is the Nation Listening
Still More Relevant Than Ever
Thursday, January 23, 2014 3:00 PM to 6PM
Location:
Curley k-8 School
40 Pershing Road
Jamaica Plain (Boston), MA
Free with Donations Appreciated

Download the Leaflet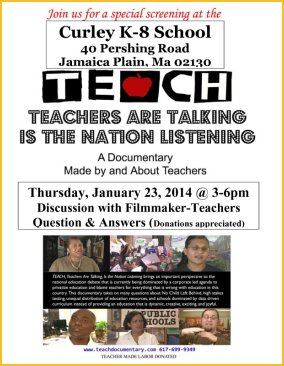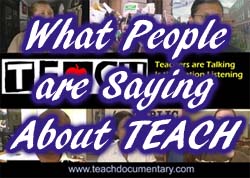 ---
TEACH in New Bedford and Brockton
New Bedford:
Saturday, April 6, 2013 - 4:00 PM
NEW BEDFORD SCREENING THAT
TOOK PLACE ON APRIL 6, 2013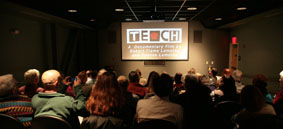 Brockton:
Saturday, April 13, 2013 - 4:00 PM
New Bedford April 6 Location:
NEW BEDFORD WHALING
NATIONAL HISTORIC PARK
33 William Street
Brockton April 13 Location:
LITTLE THEATER AT ARNONE SCHOOL
135 Belmont Street

For more information contact
TREDconf (at ) umassd.edu
Please join us for a viewing of TEACH and a dialogue about the current high stakes testing and privatized agenda within our schools. Refreshments will be served.
This event is hosted in partnership with the S.E. MA and RI Coalition to Save Our Schools, Department of Educational Leadership and Policy Studies at UMass Dartmouth, National Park Service, and 3rd Eye Unlimited.
Click Here to Download Invitation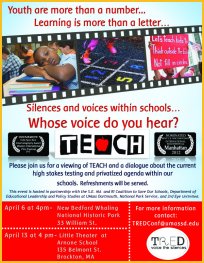 ---
TEACH in Jamaica Plain
Friday, April 26, 2012
7:00 PM
Location:
FIRST CHURCH IN JAMAICA PLAIN
UNITARIAN UNIVERSALIST
6 Eliot Street
Jamaica Plain (Boston), MA
Free with Donations Appreciated
PLEASE RSVP TO
filminfo (at) teachdocumentary.com
Discussion with Q and A with
Fimmakers-Teacher
Robert Lamothe
Join us for a lively discussion about the attacks on our public schools, the impact of the separate and unequal assignment plan, and the proposed large increase in charter schools funding. With the attacks on equal quality education dramatically increasing and the subsantial increase in charter schools and level 4 schools, the TEACH documentary are more relevant now than ever.
For More Info Contact
Marc Gurvitch 617 699-9349
filminfo@teachdocumentary.com
Click Here to Download Invitation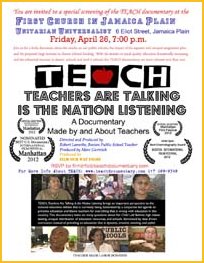 ---
TEACH in Cambridge - Somerville
Details will be coming soon.
---
Please contact us to set up a screening of TEACH. There are many screenings scheduled or being planned in this area and around the country including such cities as Detroit, Denver, Cities in Florida, Eugene, Oregon, multiple ones around Seattle, multiple ones in New Jersey, New York, multiple screenings in California, multiple colleges and universities, and others. We have also had very successful TEACH "Coffee" screenings similar to the political candidate coffees in people's houses.

The important messages of TEACH need to be heard and seen by as many people as possible considering the barrage of attacks and the mis-information that is being spread by conservative millionaires and their think tanks and foundations.

To set up a screening for your organization, union, or a TEACH Coffee Screening, please call or email us:

Marc: 617.699.9349
or email:
filminfo(at)teachdocumentary.com

Purchase Teach DVD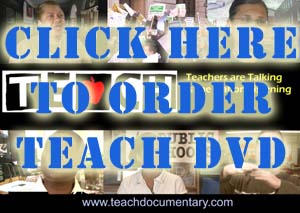 Previous Screenings
TEACH in Denver, Colorado
Monday, October 15, 2012
6:00 - 8:00 PM
Location:
Montview Presbyterian Church
1980 Dahlia Street
Denver, CO 80220
Click here to download the invitation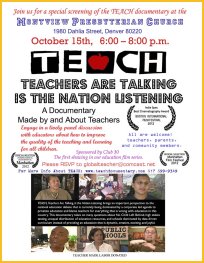 TEACH Connecticut Premiere Screening
Sunday, 5 to 8 PM, June 10, 2012
Click here To Download the Invitation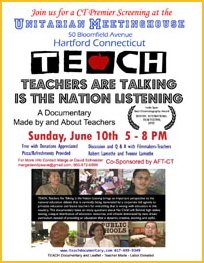 Location:
UNITARIAN MEETINGHOUSE
50 Bloomfield Avenue
Hartford, Connecticut
Co-Sponsored by AFT-CT
Free with Donations Appreciated
Pizza and Refreshments Provided
Discussion with Q and A with
Fimmakers-Teachers
Robert Lamothe and Yvonne Lamothe
For More Info Contact
Marge or Dave Schneider
margedavidpeace@gmail.com
860-872-6899
Hear a WILI 1400am Radio broadcast about the Connecticut Premiere that took place on WILI Radio in Williamantic Connecticut on May 29, 2012
Listen to WILI Broadcast
---
TEACH at Mahnattan Film Festival
June 21 to July 1, 2012
Location:
New York City, Manhattan
Additional Details Coming Soon
Manhattan Film Festival
http://www.manhattanfilmfestival.org
TEACH Screening
Chelmsford Federation of Teachers and the
Lowell Teachers Union
Thursday, May 31, 2012, 3:15 to 6:30 PM
Location:
Chelmsford Police Station Auditorium
2 Olde North Road - off the Rt. 3 rotary
Chelmsford, MA 01824
Program:
3:15 – 3:45 Snacks and Socializing
3:45 – 5:00 "Teach" and film discussion
5:00 – 6:00 Focus Group and Q&A
---
TEACH at the
Boston International Film Festival
Monday, 1pm, April 16, 2012 - Patriots Day

Location:
AMC Loews Theatres
175 Tremont Street, Boston Common
Monday, April 16, 2012, 12:30 pm - Patriots Day
---
TEACH at the
United Opt Out National - Occupy the DOE in DC - March 30th to April 2nd, 2012
Details for Occupy the DOE in DC
Screening is on Saturday, 6:30 pm, March 31, 2012.
6:30 p.m. Movie – TEACH at American University followed by a panel with Bob & Yvonne Lamothe, Ann Halloran, Tracy Novick and Ruth Rodriguez.

Location:
American University
4400 Massachusetts Avenue, NW
Washington, DC 20016
Saturday, March 31, 2012, 6:30 pm
---
TEACH Screenings in Los Angeles
---
TEACH Screenings in Detroit

---
TEACH at the BTU- October 13, 2011

Location:
Boston Teachers Union Hall
180 Mt. Vernon Street, Dorchester, MA 0212
Program:
5:30 - 6:30 - Social Hour, Live Jazz, and Hors D'Oeuvres
6:30 - 8:00 - Screening of TEACH, Teachers are Talking, Is the Nation Listening
8:00 - 9:00 - Informal Discussions
Live Jazz by
Different Shades Trio Plus One
EKACZOWKA(at)GMAIL.COM

Endorsers
Boston Teachers Union

AFT MA - American Federation of Teachers Massachusetts

Citizens for Public Schools

Fair Test

USW 8751 Boston School Bus Drivers Union

Eleanor Duckworth
Professor. of Education, Harvard University

Nancy Carlsson-Paige
Professor Emerita, Lesley University
(partial list)
Worcester, MA. - September 26, 2011
TEACH, Teachers are Talking, Is the Nation Listening?
Monday, September 26, 2011
5:00-8:00 PM
Clark University, 950 Main Street, Worcester, MA
Sackler Science Building, Room 122
Sponsored by Citizens for Public Schools - see announcement
Washington, D.C. - July 28, 2011
The TEACH documentary will be screened at the Save Our Schools Film Festival as part of the national SAVE OUR SCHOOLS March and National Call to Action. The multi-day event also features a Conference and Film Festival. TEACH will be shown on Thursday, July 28th at 5:30 and 7:30pm at American University. Tickets are available on line. http://sosfilms-eorg.eventbrite.com
Fall River - Week of July 25, 2011
Bristol Community College
Central Connecticut State University - March 10, 2011
A cross-state Community Dialogue: Alternative View of AYP,
Excerpts of TEACH will be shown
Western Massachusetts Advocates for Public School May 7, 2011
Film Screening of Teach and Panel Discussion
Citizens for Public Schools Annual Conference - January 2011
Boston Teachers Union - May 2011
Screening at BTU Meeting
TEACH "COFFEE" Screenings at Teacher's and Activist's Home
Cambridge, MA. - January 23, 2011
TEACH "COFFEE" Screenings at Teacher's and Activist's Home
Jamaica Plain, MA - January 9, 2011
Copyright © 2010 All Rights Reserved